Mafia II Empire Expander MOD
Gampangnya ini merupakan modifikasi game Mafia II biar area baru di DLC Joe's Adventure dan area yang di disable (cut content) bisa dimainkan kembali di mode Free Ride 🙂
.
.
Feature List
– Enable Joe Adventures and Jimmy Vendetta areas.
– Freeride with God mode, weapons, and cars.
– Can wear a hat and remove it.
Download :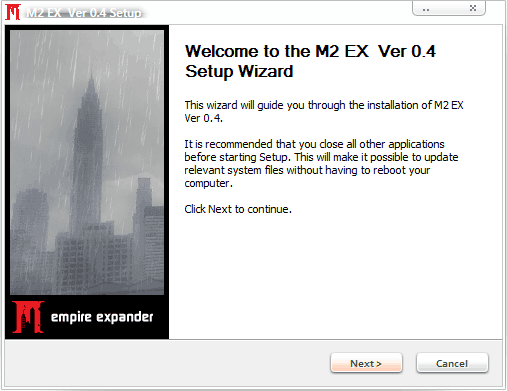 M2 EX v0.4d 12MB (NEW DATA | Installer)
EN: Put both files in one same folder. Then run the .exe.
ID: Taruh kedua file di folder yang sama. Selanjutnya tinggal install.
M2 EX Installer Source Code (download here)
Feel free to use and edit however you wan't and please give proper credit if you use this source code.
— Old Releases —
M2 Ex v0.2c (new! original cathouse added)
M2 Ex v0.2b
M2 Ex v0.2 (most stable)
M2 Ex v0.1
Thanks to:
Bullet7, Costa, eXistenZ34, Relight, Rick, t0ny, TheWhiteMIC, and everyone from mafiascene.
Info lebih lanjut / ENGLISH info : @ MAFIASCENE FORUM / @ GAMEXEON FORUM
About the author
Meski Bayu saat ini sedang kuliah arsitek, perjalanan hidupnya sangatlah jauh dari unsur arsitek. Berawal dari utak-atik komputer ketika berada di taman kanak-kanak, kini dia telah berpengalaman memperbaiki Notebook, PC, PS1, PS2, PS3, Xbox 360, Handphone, dsb serta mengembangkan berbagai sistem, teknologi, dan gadget unik. Saat ini Bayu sedang mengembangkan sistem rumah pintar dimana rumah dapat secara otomatis mengendalikan berbagai fitur (seperti lampu) dan dapat menerima perintah suara. Sayangnya pengembangan tersendat karena harus menjalani Tugas Akhir (TA) arsitek. Click untuk mengetahui Bayu lebih lanjut.
about 5 years ago - No comments
Today i just got ORIGIN Update then after applied it make my BF3 crash to desktop and showing "game disconnected" on Battlelog. Battlefield 3 also keep asking to UPDATE everytime launched. To fix this i just put Origin into OFFLINE MODE. Click the "Gear" icon in Origin Client, then click "Go Offline". After that i…